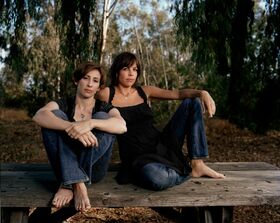 Kami Garcia and Margaret Stohl are the authors of The Caster Chronicles series, initially commonly known as the Beautiful Creatures series, and its spin-off, along with other complementary novellas set in the same universe.
How they came to work together
It is told that both Kami and Margaret had been long time friends and colleagues and both were highly interested in story writing and becoming published authors. While contemplating about what sort of story to write together, Margaret expressed an interest in writing a story that contained supernatural elements to it and Kami wanted a story that would dig into her Southern origins and roots.[citation needed]
Although, the original story of the origin of Beautiful Creatures started as a bet between the two women and one of their daughters who bet that the two women could not finish a story within a month while joking around together. Kami and Margaret, both wanting to win the bet, accepted the dare.[citation needed]
The two close friends slowly started to mesh and put ideas together. Some of the main ideas were Kami wanting a strong female lead who is greatly powerful instead of the typical girl-falling-for-a-powerful-guy-and-discovering-a-whole-new-supernatural-world plotline (which is known to be commonly used in supernatural romance novels). Yet the two wanting the story to be completely told from a male perspective which is something rarely used in romance stories (whereas most are told from the typical female point of view unless the novel is written for a direct-to-male audience). They continued to further discuss what they both wanted in a story and soon enough... The Beautiful Creatures book series was born.
The story the two women wrote together was soon passed around between their friends, resulting in their friends and relatives seriously suggesting them getting it published. Soon enough, as revealed by the authors in an interview, one of their friends got a hold of a publishing agent who was interested in getting the story published into a real series and novel. Starting the two colleagues writing careers.
Kami Garcia
Kami Garcia is a international bestselling author. She is the author of the upcoming novel Unbreakable which is due in 2013 for a release date; it is the pilot novel of The Legion series. This series is already being developed as a major motion picture by producer Mark Morgan (The Twilight Saga, Percy Jackson and The Lightning Thief).
Kami grew up outside Washington DC, wore tons of black as a teenager and spent hours writing poetry in her journals. She has revealed that she has always been intrigued and fascinated by the paranormal and believes in lots of things "normal" people do not. She's very superstitious and would never sleep in a room with the number 13 on the door (she has even admitted to changing hotel rooms on multiple occasions if her room was even 113). Aside from writing, she can usually be found watching disaster movies, listening to Soundgarden or drinking Diet Coke.
She has an MA in education and taught in the Washington DC area until she moved to LA, where she was a teacher and Reading Specialist. In addition to teaching, Kami was a professional artist and led fantasy book groups for children and teens. She still resides in LA alongside her husband, son, daughter and dogs Spike and Oz (named after characters from Buffy The Vampire Slayer television series).
Margaret Stohl
Margaret Stohl is also the author of Icons, the first book in a series, which is due for a release in spring of 2013.
She is a veteran of the video-game industry and after working with Activision (now Activision Blizzard) and Westwood Studios (now known as Electronic Arts). She is also a co-founder of 7 Studios alongside her husband Lewis Peterson. She has also been nominated for Most Innovative Game Design at the Game Developers Conference. A graduate of the Amherst College, where she won the Knox Prize for English Literature, Stohl earned a masters degree in English from Stanford University and completed coursework for a doctorate in American Studies at Yale University.
She also was a teaching assistant in Romantic Poetry at Standford and in Film Studies at Yale. She attended the Creative Writing Program of the University of the East Anglia, where she was mentored by the Scottish poet George MacBeth.
Stohl also loves traveling the world with her daughters, who are epee fencers, and living in Santa Monica, California with her husband and two beagles.
Publications
| | | |
| --- | --- | --- |
| Commonly written | By Kami Garcia | By Margaret Stohl |
Related gallery
Trivia
When Beautiful Creatures was announced to be adapted as a movie, producers soon were interested in Kami and Margaret's other work. It has since been revealed that both their solo projects (Unbreakable and Icons) are to be adapted into movies even though neither of the novels have even been released.
External links